9 Tips Sekolah Doktor
Jangan menyerah
Kebaruan
Baca dan kritik
Independen
Tulis
Baca tesis
Publikasi
Jangan malu
Kenali penguji
Key TAKEAWAYS:

✅No Quitting, MAY THE FORCE BE WITH YOU!

✅Novelty, ALWAYS BE UNIQUE!

✅Read and Criticize, BOLDNESS!

✅Your SV will only Guide You, BE INDEPENDENT!

✅Writing, THE KEY TO EVERYTHING!

✅Read some Theses as well, GET TO KNOW END-PRODUCT!

✅Publish, PUBLISHING SHOULD BE YOUR SOUL!

✅Shy?, NOTHING SHOULD STOP YOU FROM ATTAINING A SOLUTION!

✅Examiner, GET TO KNOW HIS BACKGROUND!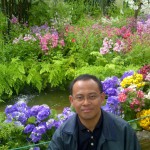 About Adi Susilo Jahja

Twitter •