Bagaimana Agar Sukses PhD
Buku ini merupakan kumpulan tulisan pengalaman mahasiswa pascsarjana. Tulisan-tulisan mereka adalah:
Communicating with your advisor
Time and self-management
Managing and organizing information
Work-life balance
Oral presentations
Scientific writing
Publishing
Paper reviews
Networking
Interdisciplinary work
Baehr, Johanna, and Ute Kreis. "How to survive your PhD-Essays from KlimaCampus Graduate Students." (2011).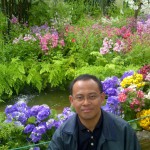 About Adi Susilo Jahja

Twitter •