Ibnu Khaldun. Siapa dia?

Ibnu Khaldun merupakan salah satu diantara banyak pemikir Islam yang telah memperkaya khazanah keilmuan dalam bidang ekonomi pada periode yang oleh pemikir Barat disebut dengan the Great Gap selama kira-kira 500 tahun. Thesis the Great Gap kini telah terbantahkan.
Ia hidup pada masa kemunduran peradaban Islam. Perhatiannya pada maju-mundurnya peradaban bangsa-bangsa menghasilkan pemikiran  yang dewasa ini dikaji orang dari berbagai bidang ilmu, termasuk bidang ilmu ekonomi. Ia adalah seorang pengamat yang cermat mengenai fenomena-fenomena ekonomi, sosial, politik dan sejarah pada masanya dan masa sebelumnya. Ia mampu mengidentifikasi dan menjelaskan hubungan antar variabel-variabel ekonomi serta keterkaitannya dengan variabel-variabel lain.
Teori-teori dari para pemikir ekonomi hingga kini ternyata banyak memiliki kemiripan dengan pemikiran ekonomi Ibnu Khaldun, sehingga Ibnu Khaldun yang selama ini dikenal sebagai father of sociology oleh sebagian pakar diusulkan sebagai father of economics (Al-Hamdi, 2006; Oweiss, 1988; Islahi, 2005, Bartkus & Hassan, 2006). Pemikiran Ibnu Khaldun tentang  ekonomi mampu melampaui jamannya, teruji oleh sejarah, dan masih tetap relevan hingga saat ini.
Selengkapnya:
Jahja, A. S. (2009). Mengenali Kontribusi Ibnu Khaldun terhadap Pemikiran Ekonomi. Jurnal Ekonomi dan Keuangan Syariah Amwaluna, 1(1), 61–75. Klik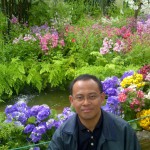 About Adi Susilo Jahja

Twitter •