Jika Ide Pengarang yang Sama Dikutip Lagi
Apabila penulis yang sama gagasannya dikutip pada kalimat berikutnya, tidak harus ditulis kembali nama sumbernya. Tapi dapat digunakan kata ganti "they" (mereka)  atau "authors" (para pengarang).
Contoh:
Moratis, Lars, and Alice Tatang Widjaja. "The Adoption of ISO 26000 in Practice:  Empirical Results from The Netherlands." In ISO 26000-A Standardized View on Corporate Social Responsibility, pp. 47-61. Springer, Cham, 2019.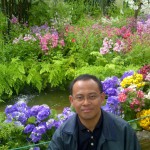 About Adi Susilo Jahja

Twitter •