Jurnal Internasional Edisi Khusus
Ketentuan tentang publikasi pada jurnal internasional edisi khusus yang memuat artikel yang disajikan dalam sebuah seminar
Contoh:
Dalam seminar ini dikatakan bahwa all accepted papers will be published in Scopus index journal & JEL Index, salah satunya adalah Jurnal "International Journal of Applied Business and Economic Research".
Jurnal ini terindex Scopus, tapi terindikasi meragukan sebagaimana dinyatakan di laman Jeffrey Beall.
Bagaimana menyikapinya?
Butir 12 halaman 26 Petunjuk Operasional 2014 (di laman pak.dikti.go.id diunggah pada 27-1-2015) tercantum:
12. Publikasi pada jurnal internasional edisi khusus atau jurnal ilmiah nasional terakreditasi edisi khusus yang memuat artikel yang disajikan dalam sebuah seminar/simposium/lokakarya dapat dinilai sama dengan jurnal edisi normal (bukan edisi khusus) namun tidak dapat digunakan untuk memenuhi syarat khusus publikasi ilmiah kenaikan jabatan akademik. Perlu ditekankan, edisi khusus ini harus diproses seperti pada penerbitan non edisi khusus (terbitan normal) dan memenuhi syarat-syarat karya ilmiah.
Perlu diketahui beberapa jurnal terindikasi sebagai jurnal meragukan di laman Jeffrey Beall. Sepanjang jurnal tersebut belum pernah ditemukan bermasalah dalam penilaian Angka Kredit kenaikan jabatan/pangkat di Ditjen Sumber Daya Iptek dan Dikti (termasuk di Era Ditjen Dikti) atau dikelola dengan profesional dan artikel ditulis dengan baik maka karya ilmiahnya akan dinilai sesuai ketentuan.
Informasi terbaru (5 Desember 2016):
• Serials Publications Pvt. Ltd, termasuk dalam 'predatory publisher'
• Berdasarkan temuan lain di jurnal yang juga berasal dari Serial Publications direkomendasikan para dosen yang akan publikasi untuk mencari jurnal yang dikelola dengan baik dan tidak publikasi di jurnal dalam lingkungan Serial Publications
Rujukan:
PAK Dikti. 24 Mei 2016. Kerjasama antara Panitia Seminar dengan Penerbit Jurnal
PAK Kemristekdikti. 5 Desember 2016. [4] Informasi Seputar PAK
(temuan_jurnal_int (22-11-2016), jurnal_man_india (22-11-2016).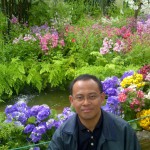 About Adi Susilo Jahja

Twitter •