Making derived marketing
Menumbuhkan permintaan tidak harus dengan cara tradisional. Cara-cara out of the box merupakan suatu cara kreatif untuk menumbuhkan permintaan salah satunya pada artikel berikut:
Selasa 09 May 2017, 19:43 WIB
Setelah Go-Jek, BTN Kaji Kerja Sama KPR Subsidi dengan Grab
Ardan Adhi Chandra – detikFinance
Foto: Tim Infografis, Luthfy Syahban
Jakarta – PT Bank Tabungan Negara (Persero) Tbk (BBTN) tengah mengkaji penyaluran Kredit Pemilikan Rumah (KPR) subsidi ke pengemudi Grab. Sebelumnya, BTN sudah menyepakati penyaluran KPR subsidi dan KPR mikro kepada pengemudi Go-Jek.
KPR subsidi merupakan fasilitas pembiayaan perumahan yang diberikan BTN dengan uang muka (DP) 1% dan suku bunga tetap 5% selama 20 tahun. Rumah yang ditawarkan lewat KPR subsidi maksimal Rp 141 juta. Sedangkan, untuk KPR mikro fasilitas pembiayaan yang diberikan maksimal Rp 75 juta yang difokuskan untuk renovasi rumah.
"Menunggu Grab juga ada kerja sama di dalam pipeline," tutur Direktur Konsumer BTN, Handayani di Kantor Go-Jek Pasaraya Blok M, Jakarta Selatan, Selasa (9/5/2017).
Selain Grab, BTN juga tengah mengkaji penyaluran KPR subsidi dan KPR mikro kepada tukang cukur yang tergabung dalam asosiasi. BTN tengah mengkaji pembayaran cicilan KPR kepada tukang cukur.
"Kalau kaya asosiasi lain enggak punya platform, kita pikirkan bagaimana bangunnya karena enggak mungkin manual," tutur Handayani.
Penyaluran KPR subsidi dan KPR mikro, lanjut Handayani, perlu dikaji lebih mendalam agar tidak menimbulkan kredit bermasalah (NPL) di kemudian hari.
"Kita hati-hati sekali KPR mikro. Kalau minta asosiasi seperti agen Laku Pandai harus siapkan mereka edukasi yang baik bagaimana mereka melakukan secara kolektif," tutup Handayani. (mkj/mkj)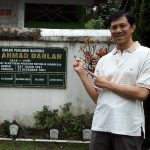 About Umbas Krisnanto

Twitter •