Netiquette Part 1: Jangan jadi one click killer
Oleh: Mardiana Sukardi
Peringkat literasi Indonesia berada di posisi kedua terbawah dari 61 negara yang diteliti (World's Most Literate Nations, yang disusun oleh Central Connecticut State University tahun 2016). Dan selama setahun (2016) Indonesia menghasilkan 4,1 Milyar cuitan (belum termasuk medsos lain dan WA Group). Jadi gak heran juga dengan segala kegaduhan saat ini, ketika banyak orang yang "tidak suka membaca" tapi "suka sekali berbicara".
Ada 3 kata kunci sederhana yang bisa kita aplikasikan klo kita memang berniat TIDAK mau menjadi bagian dari kegaduhan saat ini: True AND Good AND Useful. Kenapa Budos menggunakan operator AND diantara True, Good, Useful? Karena di dalam eksekusi program, operator AND mengharuskan ketiga kondisi tersebut dipenuhi.
Kalau diperhatikan, fenomena Group WA akhir-akhir ini orang jarang sekali melakukan filter akan berita yang akan diteruskan di Group. Buat sebagian orang yang penting nyampah dulu, benar ato tidak itu belakangan. Ajakan untuk tabayyun, cek dan ricek sebelum posting justru dianggap menggurui apalagi klo mereka itu lebih tua. Apapun yang diposting tanpa tabayyun terlebih dahulu, bukan hanya perkara hoax. Tapi juga nyawa seseorang. Beranikah bertanggung jawab kalau apa yang kita bagikan ternyata bukan berita yang benar, yang akhirnya akan berujung pada nasib seseorang? Silakan dipikir kembali, apakah itu benar? Apakah itu baik? Apakah itu bermanfaat? Kalau anda yakin, IYA, silakan dilanjutkan. Dan lengkapi dengan segala tanggung jawab dan konsekuensinya.
Nah, silakan cek dan ricek timeline medsos dan group wa pagi ini. Apakah sudah berubah menjadi "tempat sampah"? Silakan, bebersih dulu akun-akun dan group-group yang sekiranya tidak menambah erat silaturahmi antar umat, dan hanya sebagai penyebar berita yang belum sepeuhnya benar. Bukankah kebersihan juga bagian dari iman?
Jakarta, Januari 2017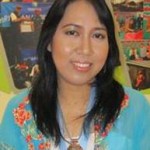 About Mardiana Sukardi
I have several middle names, including: shopping and travelling 😀