Penelitian Ilmiah (Lynch, 2013)
Menurut Lynch scientific research (penelitian ilmiah) adalah proses
(1) developing an empirically answerable question,
(2) deriving a falsifiable hypothesis derived from a theory that purports to answer the question,
(3) collecting (or finding) and analyzing empirical data to test the hypothesis,
(4) rejecting or failing to reject the hypothesis, and
(5) relating the results of the analyses back to the theory from which the question was drawn.
Berdasarkan definisi tersebut maka yang tidak termasuk riset adalah:
Kajian pustaka bukan merupakan riset
Keterkaitan antar teori atau perspektif tanpa data empiris bukanlah riset.
Pengumpulan dan analisis data tanpa landasan teori (misalnya, tanpa pertanyaan riset) kemudian tanpa ada penjelasan, bukanlah riset.

Apa yang dimaksud dengan
perspektif
teori
pertanyaan riset
hipotesis
Lynch, Scott M. Chapter 2 Overview of the Research Process. in "Using statistics in social research: A concise approach." Springer Science & Business Media, 2013.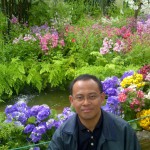 About Adi Susilo Jahja

Twitter •