Public Transportation in Jakarta (Part 1)
The choices of public transportation when you are in Jakarta can be chosen from the cheapest like bus and train, to the most expensive ones, for example taxi and motorcycle taxi or Indonesian people usually call it 'Ojek/Ojeg'.
Motorcycle taxi or Ojek/Ojeg has become one of the favorites because of the bad traffic jam Jakarta usually has. Though it's expensive and uncomfortable, people keep choosing it to help them manage their time when they want to go anywhere, even to a very far place like the airport (Soekarno-Hatta Airport in Cengkareng, Tangerang), whose distance is about 30 km from central Jakarta. Well, I have never tried it, taking the motorcycle taxi to the airport, but I know there are some people use the service to go there because many times I am offered to use the service to go to the airport. My favorite transportation to go to the airport is Damri Bus, but sometimes I also take taxi, especially when I need to catch a very early flight, or when I arrive at Soetta Airport very late at night and Damri Bus is no longer available.
For my daily transportation, I like taking bus, one of the choices is the TransJakarta bus, the one that I usually take for going home from the office. This bus is more comfortable than the regular buses available in Jakarta. When you get seat you can sit comfortably and do like what I usually do, browsing the internet, reading, even texting people. Well, I will write you more about this Trans Jakarta bus and other transportation later. See you around!!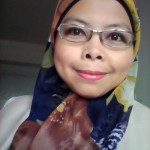 About Adelina Fauzie