Pembentangan Slide untuk Konferensi dan Ujian Thesis
GUIDELINES FOR PREPARING EFFECTIVE SLIDES FOR VIVA AND CONFERENCES
Sometimes during viva and conference presentations, we see all kinds of presentation slides.
Some are very beautiful and elaborate, but difficult to read and follow. Some are poorly prepared with small fonts and poor colour contrasts. Some have all kinds of sounds, animations and PowerPoint wizardry. Some try to cramp everything into a single slide, making it impossible to read.
I believe, PowerPoint slides for research presentations in viva, seminars and conferences should be simple, but easy to read and follow.
Here are some tips and guidelines for that purpose.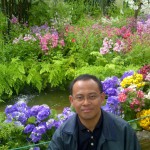 About Adi Susilo Jahja

Twitter •