WRITING LITERATURE REVIEWS
(Some parts of this guideline are only applicable to technical quantitative type research)
Literature reviews should occur twice in the thesis; in the background & problem formulation section of Chapter 1 and in the whole of Chapter 2.

Literature Review is NOT an expanded bibliography or a disjointed summary of paper/articles. It should not consists of only of extracts from abstracts of the papers.

Literature Review is a critically interwoven write-up, identifying different approaches, similarities and contradictions between contributions, analysis of strengths and weaknesses.

In the background & problem formulation section of Chapter 1, literature reviews should be mainly focused on giving the background of the problem and identification of knowledge gaps, and hence Problem Statement. Previous works must be cited.

In Chapter 2 Literature Review should critically discuss previous works, their methodologies and results. Some form of taxonomy or structure must be created for the review. Contributions from each literature can be cited and critically analysed within the taxonomy.


Literature review is like story telling where there is a 'storyline' , supported by various citation. There are interconnections between the sentences and paragraphs, interspersed with citations.
Two samples of extracts of good literature reviews are shown here.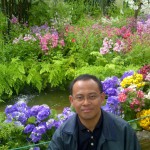 About Adi Susilo Jahja

Twitter •