4 Tips Penerbitan Jurnal Internasional
Tentang penulisan article untuk international journals. Empat buah TIPS berikut perlu mendapat perhatian tatkala menyiapkan manuscript:
• Apakah ciri manuscript yang berpeluang tinggi untuk diterbitkan di jurnal internasional bereputasi? Pertanyaan ini adalah salah satu FAQ kepada saya. Jawabannya: "Ciri utamanya ada 2 yakni NOVELTY dan HIGH IMPACT." The state-of-the-art sangat menentukan! Oleh karena itu, manuscript Anda harus menyatakan secara eksplisit kedua ciri utama tsb. Salah satu saja absen, maka manuscript Anda akan sulit mendapat perhatian Editor dan/atau reviewers.
• Apa yang paling sulit dilakukan tatkala menyiapkan article? Pertanyaan ini pun termasuk FAQ kepada saya. Jawabannya: "Pekerjaan yang sangat sulit adalah to convince the Editor and/or reviewers." Jangan lupa pula, "be polite with the Editor and/or reviewers when responding their comments/enquiries."
• Untuk menulis article yang baik, gunakanlah Fog's Index. Apa pula index ini? Ingin tahu? Sila googling saja. Namun, sebaiknya bacalah buku Gordon Dryden & Jeanette Vos berjudul "The Learning Revolution: To change the way the world learns", 1999.
• Kalau Anda berkeinginan kuat untuk menjadi world class international scientific journal writer, amalkanlah "10K Hours Formula." Saya memperoleh rumus ini tahun 1972 dari Pembimbing saya di ITB (Alm) Prof. Dr. Achmad Arifin tatkala menyusun tesis Drs. Pada zaman itu, untuk meraih Drs diperlukan 11 semester, S1 (8 semester), & Sarjana Muda (6 semester). 37 tahun kemudian, tahun 2009, saya membeli bestseller book karangan Malcolm Gladwell berjudul "Outliers…" yang terbit 2008. Isi buku itu adalah tentang world class persons; semuanya adalah para pengamal "10K Hours Formula." Sejak 1972 hingga saat ini, saya mengamalkan rumus ini.
Mari kita kibarkan Bendera Merah-Putih melalui publikasi internasional!
Selamat berkarya,
Maman A. Djauhari (Pensiun dari ITB 2009)
PS: Bacalah kedua buku tsb diatas; pasti berguna tidak hanya untuk menulis international journal articles, namun juga untuk mencetak generasi muda Indonesia berkelas dunia.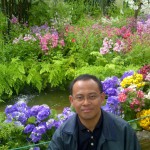 About Adi Susilo Jahja

Twitter •