4 Alasan Menggunakan PLS SEM
Mengapa menggunakan PLS SEM? Ada empat alasan:
Non normal data
Small sample size
Formative measure
Focus on prediction
Joseph F. Hair, Marko Sarstedt, Torsten M. Pieper and Christian M. Ringle. The Use of Partial Least Squares Structural Equation Modeling in Strategic Management Research: A Review of Past Practices and Recommendations for Future Applications. Long Range Planning 45 (2012) 320-340.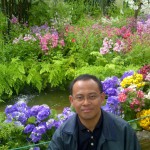 About Adi Susilo Jahja

Twitter •