Bentuk Protes Terhadap Jurnal Berbayar
Komentar Sylvain Deville ‏@DevilleSy Sep 28
Always happy to decline to review for Elsevier paywalled journals.
Makalah ini sepertinya menarik.
Namun demikian saya sudah tidak lagi menerbitkan hasil riset saya di Elsevier, dan menolak melakukan peer review untuk makalah2 yang dikirim ke Elsevier. Hal ini dimaksudkan untuk menunjukkan kemuakan saya atas dukungan perusahaan ini dalam menghambat open access terhadap makalah ilmiah, serta praktek komersialisasi karya ilmiah. Penerbit seperti Elsevier bergantung pada peer review gatis. Mereka dapatnya gratisan, para ilmuwan yang melakukan review itu dibayar dari uang pajak. Saya tak  mau lagi mereview dengan cara seperti ini. Penerbit meraup untung besar (lebih dari 30% pendapatan), menikmati kemurah-hatian kami.
Dengan segala hormat saya menolak undangan Anda untuk mereview naskah.
Best regards,
https://twitter.com/devillesy?lang=en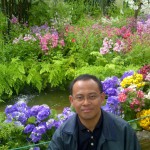 About Adi Susilo Jahja

Twitter •