E-Commerce (2)
Di dalam E-Commerce (1) telah dibahas bahwa dari sisi proses bisnis kita dapat membedakan e-commerce menjadi pure e-commerce dan partial e-commerce. Selanjutnya, kita dapat juga melakukan klasifikasi berdasarkan organisasinya atau perusahaan yang melakukan perdagangan elektronik.
Secara historris bentuk organisasi pelaku e-commerce adalah organisasi virtual (virtual organisation). Biasanya yang menjadi contoh klasik kasus di dalam organisasi virtual  adalah toko (buku) virtual Amazon yang hanya dapat diakses melalui alamat situsnya, http://www.amazon.com. Kehadiran toko buku virtual Amazon pada awalnya tidak dipandang sebelah mata oleh jaringan toko buku Barnes & Noble (B&N) karena toko buku ini telah menguasai pasar buku di seluruh Amerika Serikat pada saat itu. Namun, ternyata, di dalam perkembangannya, pelanggan toko buku virtual Amazon menjadi kian meningkat sehingga mengkhawatirkan B&N. Oleh karena itu, B&N akhirnya membuka situs dengan alamat:  http://www.barnesandnoble.com. Kehadiran B&N di dunia maya ini membentuk organisasi baru, yaitu perpaduan antara organisasi konvensional dan organisasi virtual, organisasi semacam ini disebut sebagai click and mortar atau click and brick. Selanjutnya, organisasi konvensional diberi nama organisasi brick and mortar (batu bata dan semen) untuk mempermudah orang memahami mengapa organisasi setengah konvensional atau setengah virtual itu diberi nama click and mortar atau click and brick.
Jadi, dari sisi organisasi, kita mengenal organisasi konvensional, yaitu brick and mortar, organisasi virtual, dan organisasi setengah virtual atau setengah konvensional yang disebut sebagai click and mortar atau click and brick.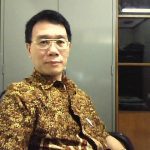 About Edhi Juwono