Fasilitas Mesin Pencari Google (part 2)
Menyambung tulisan mengenai Fasilitas Mesin Pencari Google (part 1), maka berikut 5 fasilitas lain yang bisa digunakan di Google:
Melacak jadwal penerbangan. Ketik nama maskapai dan nomor penerbangan untuk mengetahui status lokasi pesawat kini berada, juga kapan akan mendarat.
Mencari file tertentu. Misalnya mencari file pdf mengenai "jurnal teknologi informasi" filetypd:pdf
Konversi unit pengukuran dapat dilakukan dengan mudah hanya dengan mengetikkan kata kunci pada kolom search. Contohnya kita dapat mengetikkan "20 C in F", atau "15 inch in cm" maka kita akan mendapatkan hasil secara insta.
Menterjemahkan kata asing cukup dengan mengetikkan "translate to " sebagai contoh "translate cengkeh to english" maka akan muncul hasil clove, jika kita ketikkan "translate cengkeh" to spanish maka akan muncul clavo.
Main game pacman 🙂 , ketik pacman maka akan muncul gambar game tersebut dan tulisan "click to play", klik pada tulisan tersebut untuk memainkan game pacman.
Semoga bermanfaat 🙂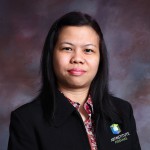 About Adele B.L. Mailangkay

Twitter •