Jurnal-jurnal Manajemen Terkemuka
Eight leading management journals
Menurut Suddaby dkk. (2017) ada delapan jurnal bidang Manajemen yang dinilai paling terkemuka, yaitu:
Academy of Management Journal
Academy of Management Review
Administrative Science Quarterly
Strategic Management Journal
Journal of Management
Journal of Management Studies
Organization Science
Organization Studies
Sementara Michailova, Snejina, and Zaidah Mustaffa (2012) mengemukakan 15 top management and international business journals:
Suddaby, R., Bitektine, A., & Haack, P. (2017). Legitimacy. Academy of Management Annals, 11(1), 451-478.
Michailova, Snejina, and Zaidah Mustaffa. "Subsidiary knowledge flows in multinational corporations: Research accomplishments, gaps, and opportunities." Journal of World Business 47, no. 3 (2012): 383-396.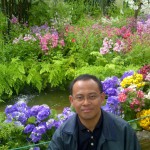 About Adi Susilo Jahja

Twitter •