HOW TO COMPOSE A SIMPLE CONVERSATION PART II – HOW TO BE A GOOD STUDENT IN AN ENGLISH CLASS – BY IGNATIUS SEPTO
HOW TO COMPOSE A SIMPLE CONVERSATION PART II
HOW TO BE A GOOD STUDENT IN AN ENGLISH CLASS
BY IGNATIUS SEPTO PRAMESWORO
Studying English for Perbanas Institute students is not simple and it is not difficult. Studying English should be considered as two sides of a coin. It can be studied seriously and hardly. Or it can be studied in a pleasant way. Students who want to face a comprehension exam in Perbanas Institute should be able to show their TOEFL score. It means if they want to get good score or they want to pass the standard score demanded by the institution they must study hard. Studying TOEFL needs extra time and energy. Whereas if the students want to improve their speaking, then they can study English in a fun way.
In this part, as a lecturer, I usually teach and explain some ways to improve my students speaking ability.  In a class of English for Professional Purposes class for example, students start speaking using Indonesian language with Cinta Laura style or Bule style. I use this activity in the first time or session they enter the class. Why do I ask my students to do this idea? The main point is because they have to put aside their shyness. They have to be confident to speak in front of the class in different style. It will happen if they speak using English language. Some of them say that they are shy or even afraid to speak in English language.  The idea of using the words "becek, nggak ada ojek, Jakarta, Jogjakarta, Manchester, etc" in Bule's pronunciation makes them happy. They feel that making mistakes in speaking is okay. After they can believe that learning can be pleasant then they feel that speaking in front of others can be imperfect. They do not have think over grammar, vocabulary, or pronunciation. Speaking, I think, is the first skill of language that a human is able to use for the first time.
In this opportunity, actually I want to show you that improving my students' speaking ability can improve in some ways. If I watch their videos sent by email that have been uploaded in YouTube, I can be surprised. The results of their conversation are really awesome.  You should know that since the odd semester the 2016/2017 academic year I have implemented conversation tasks to all my students. They are not only in the third semester but also in the first semester. They make me proud of them. Really. Students from the Z Generation nowadays understand technology better than their lecturer from X or Y Generation. Moreover, the students can make attractively energetic videos that make us the audience motivated to watch.
These are the examples of their videos. Keep watching.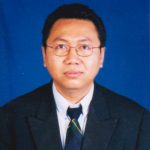 About Ignatius Septo Pramesworo

Twitter •