LITERASI MEDIA "be smart user with your smartphone"
LITERASI MEDIA
be smart user with your smartphone
Musim hujan sudah mulai menampakkan dirinya. Ada satu kata yang pasti sangat fenomenal di kalangan warga Jakarta dan sekitarnya yaitu "banjir". Tapi saya tidak akan membahas mengenai "banjir" ini, tapi fenomena aksi media termasuk media sosial dalam menyingkapi "banjir" ini. Sebelum masuk ke banjir, mari kita amati dulu kondisi persungaian di Jakarta ini. Kalau kita perhatikan kondisi sungai di Jakarta sudah mulai dibenahi. Tapi apakah Anda cukup sering menerima atau membaca info-info terkini soal ini? Saya yakin, tidak. Info-info seperti itu akan jarang bahkan tidak akan kita dapati di media-media mainstream baik tv, koran cetak maupun online, karena mungkin tidak laku untuk dijual.
Hasilnya akan berbeda kalau hujan turun 5 menit saja, secara serentak dan terus menerus media-media ini akan menayangkan info dengan tagline dan foto yang bombastis, dari mulai 'genangan', 'banjir besar', 'terendam', dll sampai sanggup membuat ibu saya SMS untuk menanyakan 'mba Anna gpp kah, moga-moga gak kena banjir'. Sms ini menunjukkan betapa besarnya pengaruh media untuk menggiring opini masyarakat. Giliran saya yang kaget baca sms, memang ada apa di Jakarta bu?
Lalu tanggung jawab siapakah Literasi media ini? Pemerintah pasti, karena yang berwenang menyusun regulasi. Dosen, guru, orang tua pun juga perlu banyak belajar, memilah info mana yang layak untuk dijadikan referensi, karena mereka akan menjadi orang-orang terdekat bagi generasi muda dan anak-anak. Hanya melihat foto dan membaca judul saja tidak cukup, mari telusuri dulu sumbernya, sebelum suatu informasi/foto tersebut dibagikan. Apalagi dengan kemudahan teknologi "mobile" dan maraknya penggunaan media sosial, informasi/foto akan sangat mudah untuk dibagikan. Be smart user with your smartphone.
Foto ini mungkin menjadi salah satu contoh yang bisa kita lihat betapa literasi media-media yang wara wiri itu tidak bisa begitu saja kita percayai. Cuma kok ya saya kasihan juga sama si ibu ini yaa.., kemana pun pindah, kotanya kok ya kebanjiran…:D
Marilah menjadi pengguna yang cerdas untuk ponsel cerdas kita.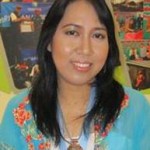 About Mardiana Sukardi
I have several middle names, including: shopping and travelling 😀