Mewirausahakan Birokrasi
Oleh: Vincent Gaspersz, Lean Six Sigma Master Black Belt and Certified Management System Lead Specialist
Kata Kewirausahaan (Entrepreneurship) seringkali dipahami secara keliru, karena seolah-olah HANYA berkaitan dengan dunia bisnis, ekonomi, dan lain-lain. Padahal yang diperlukan dari kewirausahaan adalah mental (mindset-attitude-habits-character) berikut:
1. Disiplin dan menghargai waktu
2. Memiliki kesadaran diri yang tinggi
3. Memiliki kepercayaan diri tinggi
4. Memiliki motivasi diri tinggi
5. Memiliki keinginan mengambil risiko yang diperhitungkan (calculated risks)
6. Berani gagal
7. Memiliki keinginan bekerja keras dan cerdas
8. Memiliki keinginan untuk mendengar orang lain
9. Dan lain-lain
Mengapa kita membutuhkan Kewirausahaan Birokrasi?
Terdapat buku bagus yang jarang dibaca oleh para mahasiswa dan dosen-dosen ekonomi yaitu berkaitan dengan Sosiologi Ekonomi (Economic Sociology).
Dalam artikel dari Victor Nee ( 2005) berjudul The New Institutionalisms in Economics and Sociology. P. 49-74. In the Handbook of Economic Sociology (Neil J. Smelser and Richard Swedberg, Editors). 2nd Edition. Princeton University Press, Princeton. 736 pages, (lihat bagan terlampir) terungkap bahwa pertumbuhan ekonomi yang tinggi dari suatu negara dapat bersumber dari birokrasi pemerintahan yang kompeten, bersih—tidak korupsi, memiliki norma dan sasaran jangka panjang yang terukur, dan hal-hal lain yang apabila diurutkan akan memiliki reaksi berantai sebagai berikut:
1. Mulai dari birokrasi pemerintahan (aparatur, administrasi, dll).
2. Menerapkan sistem rekrutmen berdasarkan meritokrasi (bebas KKN—Korupsi, Kolusi, Nepotisme), memiliki jenjang karier yang dapat diprediksi, dan penghargaan (renumerasi) jangka panjang.
3. Menetapkan norma dan sasaran bersama serta menurunkan ketertarikan untuk korupsi dari individu-individu birokrat.
4. Meningkatkan keberhasilan kompetensi birokrat sehingga terjadi peningkatan kemampuan organisasi pemerintah untuk mencapai sasaran jangka panjang yang terukur.
5. Mencapai pertumbuhan ekonomi yang lebih tinggi.
Semoga dalam kontestasi pilkada dan pilpres akan terpilih bupati/wakil bupati, walikota/wakil walikota, gubernur/wakil gubernur, presiden/wakil presiden yang memperhatikan kewirausahaan birokrasi ini sehingga memberikan pertumbuhan ekonomi yang lebih tinggi di berbagai wilayah di Indonesia.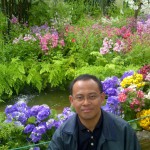 About Adi Susilo Jahja

Twitter •