Positivisme vs Interpretivisme/Konstruktivisme
Postitivisme merupakan aliran filsafat yang berkembang pesat di abad 19. Dalam padndangan penganut fisafat ini tujuan riset adalah untuk mendapatkan penjelasan ilmiah. Positivisme memandang ilmu-ilmu sosial sebagai metode terorganisir dengan menggunakan logika deduktif serta pengamatan empiris dari perilaku individu dalam rangka menemukan dan mengkorfirmasi dugaan hubungan sebab-akibat. Hal ini dilakukan untuk meramalkan pola umum kegiatan manusia.
Sifat dasar dari pendekatan ini adalah bahwa fakta empirik terpisah dari gagasan atau pemikiran personal. Fakta empirik itu terjadi karena adanya hukum sebab dan akibat. Pola realitas sosial itu bersifat stabil. Paradigma ini mengasumsikan bahwa tujuan sains adalah mengembangkan meode-metode yang sangat obyektif untuk mendekati realitas. Peneliti yang menggunakan pespektif ini menjelaskan bagaimana variabel-variabel saling berinteraksi, membentuk suatu kejadian , dan menghasilkan sesuatu. Semuanya dilakukan dengan pendekatan kuantitatif. Sering penjelasn-penjelasan tersebut dikembangkan dan diuji dalam studi eksperimental. Diantara kontribusi penting dri tipe riset ini adalah analisis multivariate dan teknik-teknik peramalan statistik.
Disisi lain, ada perspektif interpretivist/constructivist yang merupakan riset kualitatif, memandang dunia sebagai sesuatu yang dikonstruksi, ditafsirkan, dan dialami oleh orang dalam interaksinya dengan sesama serta dalam sistem sosial yang lebih luas. Menurut paradigma ini sifat dasar penelitian adalah penafsiran, sedangkan tujuannya adalah untuk memahami fenomena tertentu. Bukan untuk melakukan generlisasi dari populasi. Penelitian pada paradigma ini besifat alamiah karena diterapkan pada situasi dunia nyata.
Antwi, S. K., & Hamza, K. (2015). Qualitative and Quantitative Research Paradigms in Business Research: A Philosophical Reflection. European Journal of Business and Management, 7(3), 217–225.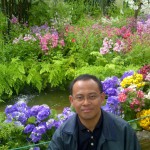 About Adi Susilo Jahja

Twitter •