Quantitative Data Analysis (Mertens dkk., 2017)
Dalam pengantarnya dikatakan bahwa buku ini disusun untuk memandu peneliti dalam memilih dan menjalankan analisa data yang tepat untuk menjawab pertanyaan riset. Ini bukan buku yang menjelaskan analisis data secara mendalam, namun peneliti yang sudah berpengalaman pun dapat menggunakan buku ini sebagai penyegaran pengetahuan serta menjadikannya sebagai checklist untuk menghindari terluputnya langkah-langkah yang penting. Para penulisnya bukanlah ahli statistik, tapi mereka adalah para peneliti yang menerapkan statistik, sehingga uraiannya lebih aplikatif karena menjelaskan masalah-masalah yang biasa muncul di lapangan.
Dalam laman http://www.springer.com dikatakan bahwa buku ini adalah:
A guide through the essential steps required in quantitative data analysis, from relatively simple (t-test and ANOVA) to more sophisticated techniques (structural equation modelling and panel data analysis)
Helps in choosing the right method before starting the data collection process, based on the questions to be answered rather than the technique that needs to be learned
Statistics with the math! This book is written in words, not equations
Includes guidance on how to report results in scientific articles and thesis
Offers numerous examples from various disciplines in accounting and information systems to help readers understand the real-life use of each method
No need to invest in expensive and complex software packages – any suite can be used, or no suite at all
Semoga berguna!
Mertens, W., Pugliese, A., & Recker, J. (2017). Quantitative data analysis: A companion for accounting and information systems research. Springer International Publishing Switzerland.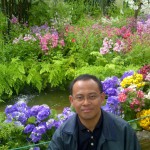 About Adi Susilo Jahja

Twitter •