When Enough is Enough
One day, I visited one of office boys' at office because his father passed away. It was around 4 P.M. and my next destination was a place somewhere a bit far from there. You know…with the traffic we have in Jakarta then it is normal that I choose motorcycle taxi for my transportation and sure it's because on that day I was in a hurry. I did not want to be late reaching the next destination, so I decided to take the motorcycle taxi from Tebet area to go to Sudirman. However, since at the office boy's house I did not know where I could find the place of the motorcycle taxi, I thought it would be nice if somebody there with motorcycle could give me a ride to Sudirman. Lucky me, I met another office boy (OB) who had his motorcycle and he didn't mind dropping me. So finally I took a ride with him instead of taking the motorcycle taxi. Say this guy's name is Dicky. When I arrived at Sudirman because I had no small change for my money so I gave him Rp. 50,000. I didn't mind at all since I thanked God for giving me so easiness that I was able to arrive on time. You know what? Mr. Dicky said, "Mba Adel, it's too much", and he took his only money from his pocket, because he insisted then I took the money he gave me, it's Rp. 15,000. I thought, okay, then Rp. 35,000 was good enough for him. I didn't think anymore about my money, but of course I wondered and surprised with my experience that afternoon, because many people would take the whole money I gave them, that would be my guess.
The next day in the morning I was at the office in front of my computer, suddenly Mr. Harto (the office boy whose father passed away) appeared and handed me an envelope, "Mba Adel, it's from Dicky. He said it's the change of the money from buying the gas." And there was another Rp. 15,000 in the envelope. I was stunning and praising my Lord for what I just experienced. Still until now, I am still thinking about it and I think Mr. Dicky really rocked!!
that's what I call, when enough is enough…
I hope I can be that kind of person some day. It's not easy, you know… well, for me that's not easy. don't know with u, guys… 🙂 Good Lord…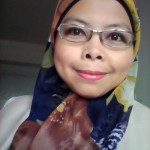 About Adelina Fauzie