Implikasi Pendidikan Doktor
Susanto Imam Rahayu. Implikasi Pendidikan Doktor. Kompas, Rabu, 25 Oktober 2017.
Tujuan Program Doktor (Pasal 20 UU No 12/2012)
Mampu menemukan, menciptakan dan/atau memberikan kontribusi kepada pengembangan, serta pengamalan ilmu pengetahuan dan teknologi melalui penalaran dan penelitian ilmiah.
Maknanya, seorang doktor harus berperan sebagai ilmuwan dan pengembang ilmu pengetahuan. Tempat yang tepat baginya adalah menjadi pengajar dan peneliti di lembaga pendidikan tinggi dan lembaga penelitian dan pengembangan.
"The Doctor of Philosophy program is designed to prepare a student to become a scholar, that is, to discover, to integrate, and to apply knowledge, as well as communicate and disseminate" – Council of Graduate Schools (2005) Amerika Serikat.
Kemampuan yang perlu dikembangkan dan dikuasai:
1. Kedalaman dan keluasan pegetahuan.
2. Kemampuan merancang dan melakukan penelitian.
3. Kemampuan menulis dan berkomunikasi.
Langkah-langkah.
1. Mahasiswa diuji kualifikasinya.
2. Mahasiswa menyusun proposal penelitian yang orisinal dan kontributif.
3. Usulan penelitian dipertahankan di hadapan para penguji.
4. Penulisan disertasi.
Disertasi seyogyanya dipublikasikan untuk memberitahu dan mendapatkan pengakuan dari masyarakat akademik bahwa permasalahan yang dihadapi telah dikerjakan dan diselesaikan sehingga dapat digunakan, dirujuk atau dibahas kembali bila dirasa perlu.
Pendidikan doktor bukanlan sekadar menghasilkan gelar, tapi tenaga bagi kelangsungan proses penemuan baru dan pengembangan ilmu pengetahuan. Hal ini dapat diwujudkan melalui kejujuran akademik dan staf pengajar yang memiliki program penelitian.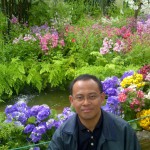 About Adi Susilo Jahja

Twitter •