Mengutip Tanpa Membaca?
Buku Freeman banyak dirujuk orang, tetapi yang merujuknya tidak membaca bukunya. Sebagai bukti, buku tersebut hanya dicetak 2.500, tapi dikutip sebanyak  4.000 kali.
Freeman, R. Edward, Jeffrey S. Harrison, Andrew C. Hicks, Bidhan L. Parmar, and Simone De Colle. Stakeholder Theory: The State of the Art, 2010.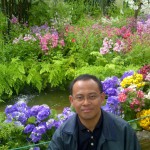 About Adi Susilo Jahja

Twitter •